We've been very influenced by a book called Exponential Organisations. If you haven't read it, do yourself a favour. An Exponential Organisation is defined in multiple ways, but front and centre is its Massive Transformational Purpose (MTP).
This is a mission statement. But not any kind of mission. It's the kind of mission that gets people excited, that will change the world in profound ways. Think Google's "Organise the world's information". Or X Prize Foundation's "Bring about radical breakthroughs for the benefit of humanity".
So, what's yours?
We've come up with ours, and believe it's good. When pondering how we're going to do it, we shift in our seats (that's a good thing!).
We're going to improve a billion people's understanding of tech.
"Yeah right!"
You may now be saying "bullshitters" under your breath. The more rational-minded of you will be calculating that a billion people is 14.286% of the world right now, and raising your eyebrows.
Let us massage those eyebrows back into shape. And put your potty mouth to shame.
If you see the world as a finite and scarce set of resource, our idea sounds insane. But it's not. It's growing, dynamic. And our MTP is a 25 year plan.
"Three to 5 billion new consumers, who have never purchased anything, never uploaded anything and never invented and sold anything, are about to come online and provide a mega-surge to the global economy."
Peter Diamandis, Chairman, XPrize
That's a bunch of new people coming online and that's only in the next 5 years. Like everyone else (including us) they'll need to know how to deal with digital disruption. There is an abundance of opportunity, and an exponentially growing set of technologies to achieve them.
Why a billion people?
A million people isn't cool. Do you know what's cool? A billion people.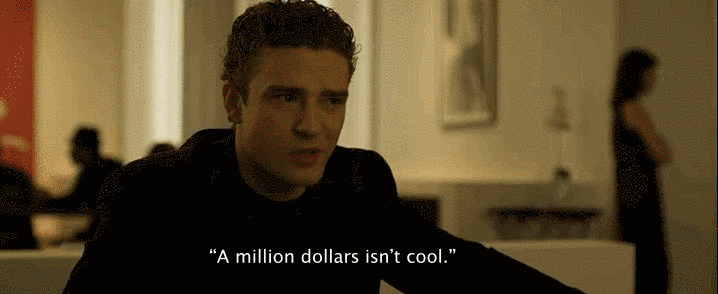 How we're going to do it
There are currently 9 pillars to build towards our MTP. Let's go through them:
(note: the last one is the biggy)
Customers
We have a great portfolio of customers. We're focused on continuously improving their organisations with technology. In the process we'll improve their knowledge by operating transparently on projects. And we also share a lot of knowledge with them (see below). So far so so-so.What's more interesting is in 2017  we're launching "Bootcamp Circles" (named after the Techdept Bootcamp™ process, see below). These are invite-only events at which our customers will meet each other and share experiences in a confidential open-innovation forum. The first one will be in May. 
Knowledge sharing
We blog, we tweet, we collate insights and share in a monthly newsletter. We wrote a 14 Day Marketing Tech Masterclass. We speak at conferences. We comment in the press. And we'll be doing a lot more of this – a lot better – as of now.
Tech Special Ops
The way we work at Techdept is unique. But we believe it shouldn't be. We've created a new way of doing digital which gets better results for those spending the money. This approach – which we call 'tech special ops' – is an operating method you can apply to your teams or company. We will be publishing our Tech Special Ops Manual in May 2017. This is in effect an open source business plan.
Techdept Bootcamp™
We have created a unique process to run projects. It is called the Techdept Bootcamp™. Imagine if Agile got sent to Navy Seals Training. It's badass and gets results. We create improvement every time we run a Bootcamp. We will be publishing the Bootcamp in June 2017.
The Innovator's Mindset™
Do you have the right mindset to innovate? Can you quantify it? We can. This scorecard process will benchmark your aptitude for digital innovation (as distinct to any direct experience). This is so powerful that we're now vetting all new business opportunities through this filter and will only work with those that share our Mindset. We will be publishing our Scorecard in February 2017.
Books
We will be writing books. These will include "How Not To Cock Up Your Tech Project", which is due in early 2018.
The Tech Off: London
We've struck a deal with our pals at Glug Events to co-produce The Tech Off in London. Each of these events entertains and appals in equal measure. And it does so for around 650 creative technologists we scrape out of an East London gutter. Catch it at the end of April, September & November TBC.

The Tech Off: On Tour
We will be taking The Tech Off on the road A LOT in 2017. First up is DMX Digital in Dublin on Wednesday 8th March for DMXXX Rated!Between Saturday 11th March and Monday 13th March we will be rocking not one, not two, not three BUT FOUR events during some small festival in Austin Texas. Details imminent!April will see us at Leeds Digital Festival on the evening of Weds 26th, for a Yorkshire edition of Creatives VS Coders battling Glug Leeds.September we're due to be at BrightonSEO on either 14th or 15th TBC, where we will be smack talking their 3500 crazed digital marketers.Do you run a high profile event? Do you want us to lower the tone? We can make that happen! info@techdept.co.ukAgain, sign up at www.thetechoff.com so you don't miss future events.
The Tech Off: Video Showdown!
The problem with hosting events is that most people (across the world) can't get to them. So we are 'dematerialising' The Tech Off® and putting it onto the Interwebs!!The Tech Off: Video Showdown is being built as we speak. It will allow ANYONE to upload a 5 minute video to YouTube and then hashtag it for our approval. Once live it will enter a leaderboard on our site.The most popular video that Quarter will win, and be flown from wherever they are in the world to compete in The Tech Off® London.We want to create a more fun, more democratic and competitive version of TED. All about technology.The Tech Off: Video Showdown will be launching at the small tech event in Austin, Texas we mentioned earlier in this post in March 2017.
Achieving our MTP
Bear in mind that this is a 25 year plan, so new ideas will emerge and the above ideas may fade (or fail spectacularly!). Also that we have yet to finalise a way of auditing all these numbers. But Rome wasn't built in a day.
Our MTP is an ambitious statement of intent, and is creating action accordingly. This is part of our vision to grow by 10x. But we think with the 'pillars' we already have, or that are imminent to go live, we have a more than fighting chance of achieving our goal.
And the journey will be a fun adventure anyway!
Let us know what you think, hopefully you can join us on the journey…
UPDATE:
This is what the author of the book Exponential Organisations – Salim Ismail – said when he read this post:
Find this interesting?